Crawler Excavators/Wheel Excavators/Mini Excavators
The 9-series of Hyundai Robex excavators with distinctive new styling including significant specification and technical improvements. The complete range that includes the new hydraulic system,the Himate System (Remote Management System) that uses GPS-satellite technology, and advanced cluster have been conceived as a true 'global concept' to meet the increasingly stringent international requirements on energy efficiency, safety, and environmental protection. These business solutions also include Hyundai's legendary values of durability and reliability.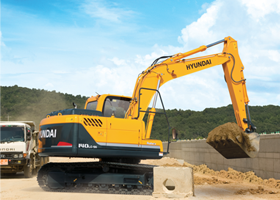 Crawler Excavators 11 ton ~ 120 ton , Wheel Excavators 5.5 ton ~ 21 ton, Mini Excavators 1.6 ton ~ 8.0 ton.
Engines: Hyundai, Cummins
Bucket Capacity: 0.04 ~ 2.15 m³
ECO Gauge,IPC (Intelligent Power Control),Electronic Viscous Fan Clutch,New Cooling System with Increased Air Flow,Enlarged Air Inlet with Grill Cover,Durable Cooling Module,Hi-grade (High-pressure) Hoses