SL30W/SL50W/SL60W/SL80W
Shantui wheel Loaders is a fixed shaft drive product developed by Shantui on the basis of extensive market survey. The transmission adopts fixed shaft power shift transmission with hydraulic drive and 4 forward gears and 4 reverse gears, featuring light and flexible operations. The whole machine features powerful operations and high loading and unloading height and is especially suitable for long-distance heavy-load operations.
Wheel loaders 3 ton/5 ton/6 ton/8 ton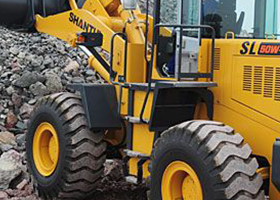 Engines: Weichai
Rated power: 92 Kw ~ 247 Kw
Shantui's original twin-turbine torque converter, planetary transmission, and drive axle feature good power matching, high drive efficiency, strong overload capacity, high quality, and long life,With the adoption of finite element analysis optimization and the utilization of box-type structure and automatic robot welding, the structural parts of the main machine feature high resistance, With the 12º vertical swing design for swing frame.